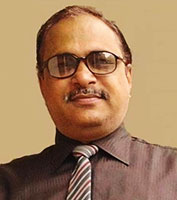 It's my pleasure to convey a message to give you knowledge about the Vidyasagar College. It is rightly said that "If we look to the future, when we talk about outsourcing jobs, when we talk about global competitiveness and our efficiency, none of that matters very much unless we have appropriate training and education for our young people today who are the workforce of tomorrow. It is an economic reality." Hence our college offers wide spectrum of job oriented courses, such as BBA (Plain/E-Commerce, Foreign trade), BCA, B. Sc.(Computer Science), M. Com., B.Com. (Plain), B.Com. (Computer Application), B.Com. (Tax Procedure and Practice), B.Com.( Sales and Advertisement), B. Lib., M.Ed, B.Ed, B.P.Ed & D.Ed programme. These courses are taught under congenial atmosphere by devoted and well qualified faculties. As our college aim is to focus on "4s" that is Success, status, security and satisfaction, so to achieve these "4s" target, the Vidyasagar school samiti Indore established Vidyasagar n 2001 which s approved by Department of Higher Education, Madhya Pradesh, recognized by National Council for Teacher Education (NCTE), New Delhi and Devi Ahiliya University, Indore
Our college has well developed infrastructure, with devoted faculties, who nurture among the students a deep sense of values and ethics, also guide them making themselves responsible and respectful citizen.
Invite all those students who have chosen Vidyasagar College for shaping their future. I assure that we will give best efforts to over all development of students.
With best wishes…